Through her work in Ace of Base, Jenny Berggren sang her way around the globe - influencing a generation of listeners along the way. Today, she continues to do the same as a solo artist. How has this musician made a difference with her work and her words?
Nearly forty fans from twenty different nations tell how this one singer has influenced and inspired them in their lives. Each fan tells the story from an individual perspective, time, and place. While each story is unique, they all have one thing in common. Every story holds the same request: Sing Me Forward. Join the journey to find out how these requests were fulfilled.
All profit from this book is donated to The Voi Project.
"The lyrics of the song gave me so much strength, so much harmony, so much clarity that it was able to change my way of seeing life."— Carlos Arevalo, Chile
"This experience changed everything. It washed away all the tears that I had cried and allowed me to see the world in a different perspective."— Cátia Santos, Portugal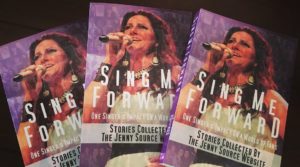 Details:

Productinformation about the book:




ISBN:

1722640359


Publisher:

CreateSpace Independent Publishing Platform
Releasedate: 2018/08/02
Format: paperback
no. of pages: 308
also available as an ebook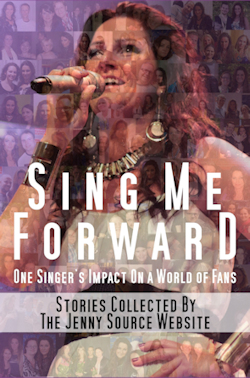 Behind the scenes "Sing Me Forward"
Sara presenting the book to Jenny during a fanmeeting in Bonn, Germany (August 2018):